Online
Reputation
Management
One of the most significant long-term assets a person or organisation may have is a good internet reputation.
However, this may be shattered in an instant by a single touch with an unfavourable press or comments. Negative feedbacks, litigation, and consumer complaints are just a few of the difficult events that may leave a bitter legacy in the form of a negative internet image – and this can harm corporate sales and individuals' chances long after the matter has been handled.
Fortunately, assistance is available. Steps may be taken before, during, and after a news report to assist in minimise the damage to your reputation online and on social media, so contact us if you want expert help managing your online reputation.
The method entails creating and optimising web material in order to control Google's top page for branded search queries. Review management, social media marketing, public relations, search engine optimization, and customer service methods are all common components of an ORM approach.
Phrases protected & monitored

Search positions monitored and protected

Development of Web 2.0 Sites/Micro Sites

Create Social Media Profiles

Informative content Writing and Submissions

Press Release Submissions

Blog Creation & Content Posting

Social Profile Creation

Positive Content Writing & Posting

Facebook Account Setup & Content Posting

Twitter Account Setup & Tweet Posting
Reviews & Ratings Posting

LinkedIn Account Setup & Content Posting

Flickr Account Setup & Promotion

Youtube Account Setup & Promotion

Social Bookmarking

QA Profile Creation

Customer Review Campaigns

Blog Posts Writing

Online Tracking & Notification
Why Does Your Company Need Online Reputation Management?
Management of brand reputation is important to digital success. People go to the internet first when they want to learn more about a person, organisation, product, or service, and a large part of their online research includes reading online reviews.
To guarantee that your company is appropriately portrayed online, reputation management and review management are essential. Online reputation management enables you to:
Attract Prospects with High Intent
Customers are always weighing their alternatives. Approximately 97 percent of consumers say company evaluations have an impact on their purchase decisions. Similarly, 95% of tourists examine internet reviews before reserving accommodations. Internet reputation management entails review monitoring and reputation management, which allow you to amplify and place favourable company evaluations across online platforms in front of your target audience.
Obtain Positive Business Reviews
 Statistics show that 92 percent of internet users do not trust a business without online feedback. Furthermore, 23% claimed it is tough to make a buying choice when there are no product reviews. A reputation manager guarantees that your company receives a consistent stream of verified internet reviews to help influence your consumers' purchasing decisions. A reputation management company will also employ innovative reputation management technologies to develop your review creation plan and obtain genuine internet reviews from delighted consumers.
Boost Customer Lifetime Value (CLV) and Loyalty
 Selling to current consumers is 6-7 times less expensive than acquiring new customers. However, one of the most difficult issues that businesses confront today is keeping existing consumers satisfied in the long run. Brand reputation management is a novel approach to promoting brand transparency and building client trust. Reputation management firms use both good and negative internet reviews to demonstrate your dedication to customer satisfaction and strengthen client connections.
Increase Your Profitability
You need web reputation management whether you run an eCommerce store, a multi-location corporation, or a brick-and-mortar business to safeguard your brand image and attract new customers. According to a Spiegel Research Center research, internet reviews boost conversions by 270 percent. Furthermore, company reviews increase conversion rates of higher-priced items by up to 380 percent. With search engine reputation management, you can improve your interactions with prospects and make the most of the many engagement channels available to turn them into paying clients.
The Effects of a Bad Online Reputation
Still not persuaded that managing search engine reputation is critical to company success?
 It just takes one disappointed consumer to harm your brand's online reputation. If poor internet reviews plague your online profiles, orders, appointments, and memberships may be terminated. These can have a knock-on effect on all of your marketing activities, harming more than than your sales.
Increased marketing expenses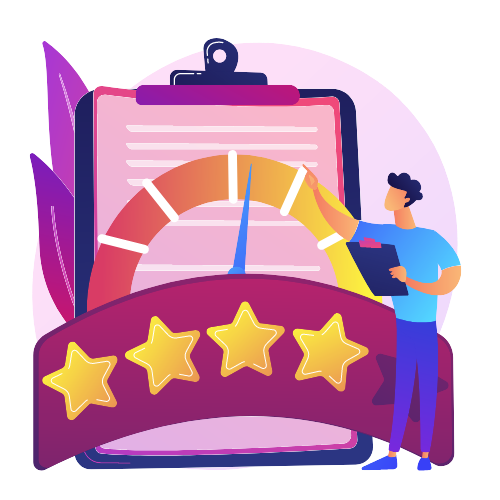 Reduced trust Revenue loss
Profitability has decreased.
Low client involvement harmed the brand's reputation
Let's build the reputation

Say Hello!