Healthcare providers are increasingly realizing the value of digital marketing in today's fast-paced digital environment as a means of reaching their target audience and enhancing patient care. The phrase "Healthcare Digital Marketing" refers to a broad range of tactics and programs that make use of digital platforms to link patients and healthcare organizations, strengthen those organizations' online presence, and ultimately improve patient experience.
This extensive blog will cover a variety of topics, including what healthcare digital marketing is, why it has recently gained so much popularity, current trends and technological breakthroughs in the industry, the different services it comprises, and the substantial advantages it provides to hospitals, clinics, and physicians.
What is Healthcare Digital Marketing?
Healthcare digital marketing is the methodical application of digital platforms, channels, and technology to market healthcare products and services, interact with patients, and improve the patient experience. It includes a wide range of online marketing techniques that are adapted to the particular requirements and laws of the healthcare sector. Building trust, educating patients, raising brand awareness, and ultimately driving patient acquisition and retention are all goals of healthcare digital marketing.
Why is Healthcare Digital Marketing So Popular?
There are a number of reasons why healthcare digital marketing is becoming more and more popular.
Increased Online Time: In the digital age, consumers—including patients—spend a sizable amount of time online. Healthcare professionals must adapt to their patients' needs.
Competitive Advantage: As more healthcare firms implement digital marketing tactics, maintaining a strong online presence and making efficient digital marketing efforts are essential to being competitive.
Patient empowerment: Today's patients actively search internet for health-related information. Healthcare providers can become trusted sources by using digital marketing to give patients accurate and trustworthy information.
Data-Driven Decision-Making: Digital marketing offers useful statistics and data that can be utilized to improve marketing plans, target particular patient demographics, and accurately calculate ROI.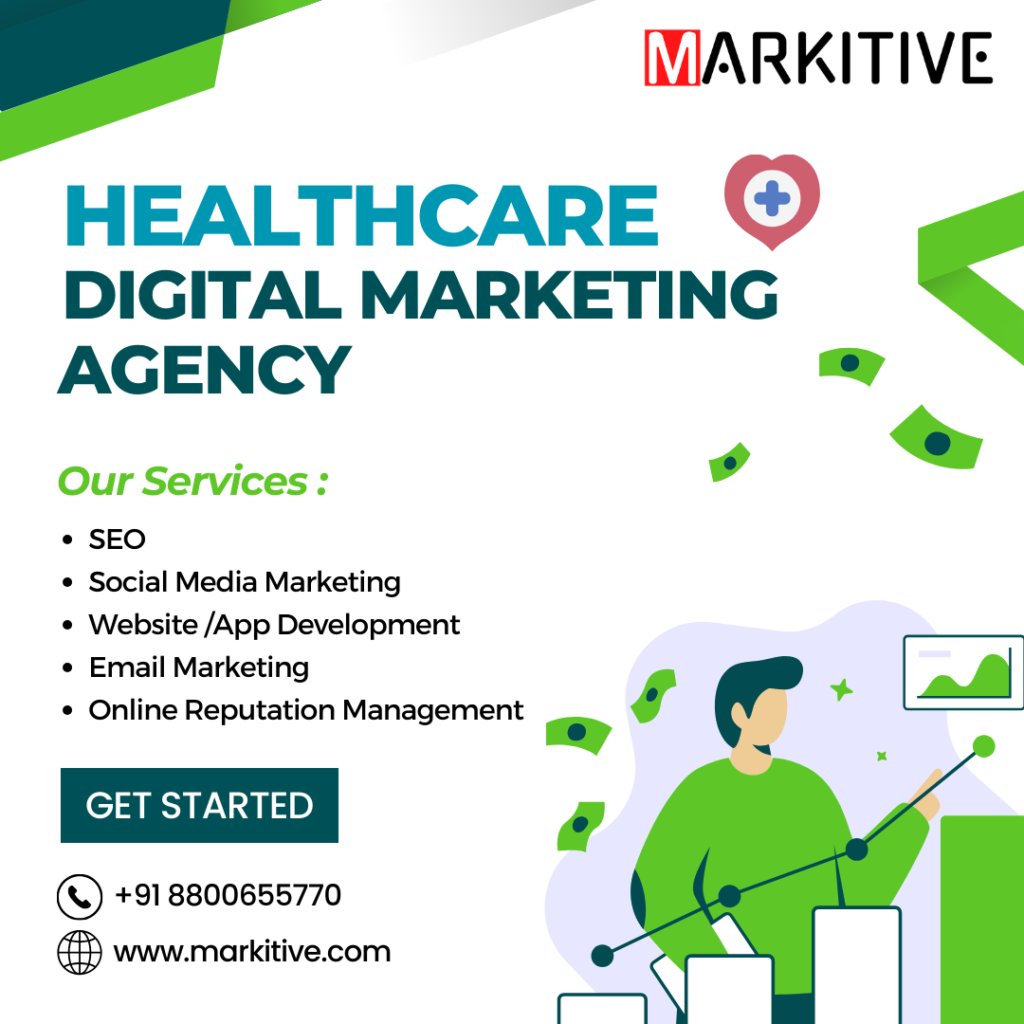 Healthcare Digital Marketing: Current Trends and Advances
The environment of digital healthcare marketing is continuously changing. Here are some recent developments and trends in the industry:
Telemedicine and telehealth marketing: The COVID-19 pandemic's surge in telemedicine has prompted a rise in marketing activities for online healthcare services. This includes encouraging online consultations, informing patients on the advantages of telehealth, and making sure the user experience is flawless.
Healthcare digital marketing relies heavily on informative, high-quality content. Healthcare providers may better educate patients, establish their authority, and raise their SEO ranks by using blogs, videos, infographics, and webinars.
Search Engine Optimization (SEO): SEO is still important for digital marketing in the healthcare industry. The exposure and organic traffic of healthcare websites are increased by making sure they rank well in search engine results pages (SERPs).
Social Media Engagement: Healthcare professionals are using social media platforms more frequently. They use social media to engage patients, share health information, advertise events, and give real-time updates.
Management of online reputation: Online reviews and ratings have a big impact on healthcare businesses. Monitoring and enhancing one's internet reputation are made easier by reputation management tactics.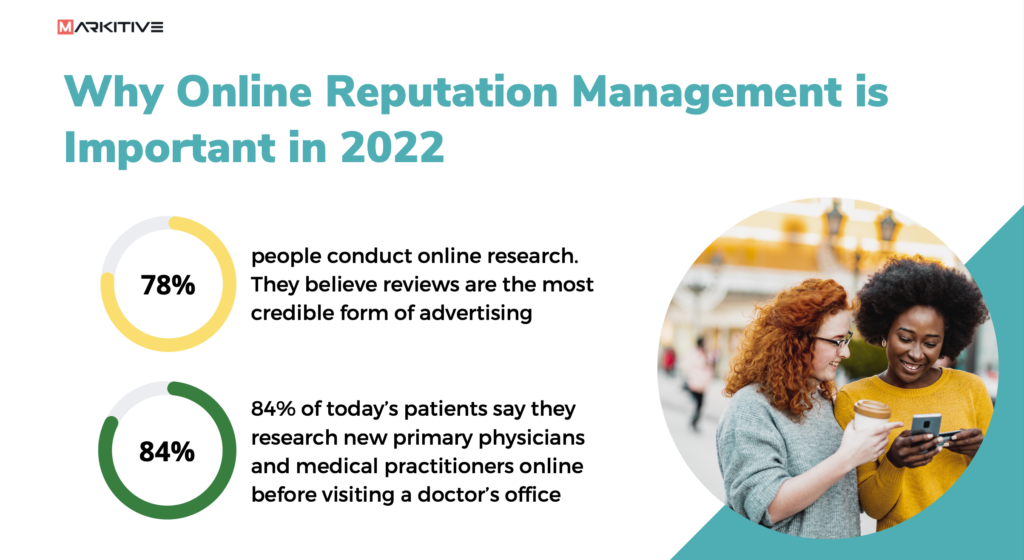 Healthcare firms can target particular patient groups with customised messaging and offers by personalizing their marketing campaigns using data-driven insights.
Healthcare Digital Marketing Services
Services That Falls Under Healthcare Digital Marketing
Healthcare digital marketing includes a variety of services, each created to achieve particular objectives and engage patients successfully:
Website development: The cornerstone of digital marketing is a user-friendly, educational website. It should offer online appointment scheduling, feature healthcare specialists, and present factual information about services.
Pay-per-click (PPC) Advertising and sponsored listings on search engines are both parts of search engine marketing (SEM). It aids in the top placement of healthcare providers in search results for pertinent keywords.
SEO SEO stands for "search engine optimization," and its goal is to increase a website's exposure in natural (unpaid) search results. It entails optimizing website structure, meta tags, and content.
Content marketing Content marketing is the process of producing and disseminating worthwhile, pertinent information to draw in and engage clients. This covers articles, blog entries, videos, and infographics.
Social Media Marketing Utilizing social media sites like Facebook, Instagram, Twitter, and LinkedIn to engage with patients, post updates, and create an online community is known as social media marketing.
Email Marketing – Sending patients-specific emails with newsletters, promotions, and appointment reminders is known as email marketing.
Online Reputation Management Monitoring and controlling internet comments and rankings to keep a favorable online reputation.
Telehealth Marketing Promoting telehealth services, instructing patients on how to utilize them, and addressing any issues are all parts of telehealth marketing.
Hospitals, clinics, and physicians can benefit from healthcare digital marketing in a number of ways:
Increased Patient Acquisition: By enhancing online exposure and interaction, effective digital marketing techniques attract more patients to healthcare facilities.
Enhanced Patient Engagement: By using educational content, interactive technologies, and individualized messaging, digital marketing enables healthcare providers to interact with patients.
Advertising That's More Cost-Effective: Digital marketing frequently costs less than conventional advertising strategies, making it a more affordable approach to reach a broader audience.
Improved Patient Experience: By making useful information available online, healthcare organizations may assist patients in making decisions and boosting their confidence in their selections of medical care.
Data-Driven Decision-Making: Digital marketing offers insightful data and information that may be used to improve patient care and marketing tactics.
Competitive Advantage Healthcare providers can get a competitive edge by remaining active and noticeable in the digital sphere and standing out in a crowded market.
Building a Strong Brand and Fostering Patient Trust: Consistent, Reliable, trustworthy, and useful web material helps to develop patient trust.
Conclusion
For hospitals, clinics, and doctors to interact with patients, enhance patient experiences, and prosper in the digital age, healthcare digital marketing has become an essential tool. Healthcare providers must adjust to the changing digital marketing landscape in order to remain competitive and satisfy patient expectations.
Healthcare firms can profit from higher patient acquisition, improved patient engagement, and increased brand trust by embracing current trends and improvements in digital marketing and utilizing the different services offered. Healthcare digital marketing is not simply a fad in today's increasingly digital world; it is a requirement for healthcare providers who want to thrive in the current healthcare environment.